27 04 16 13:07 Filed in:
Alice
Alfreda, our maternal grandmother was living in St Kilda and attending the Melbourne Continuation School in the early 1900s. While she was finishing her secondary education. Alfreda met her future husband Alf, who was recovering from rheumatic fever and had left his country teaching position and moved to Melbourne to work at Blocky Stone, a hardware supply company. Alf boarded In St Kilda with his aunt Mishy Cowden. Arthur, Alf's older brother had also boarded there and Arthur had an attractive young girlfriend, Alfreda Holm; not for long! Alfreda must have been quite attracted to this tall red headed young gentleman from the country. She abandoned Arthur, and Alf and Alfreda became 'sweet hearts' when she was 16 and he 17.
Alfreda completed the secondary schooling she had so desired. Even though she could have sat for the University entrance exam, her family could not support a full time student. Teaching was her only option. At the age of 18, she embarked on her teaching career at Elsternwick Primary School.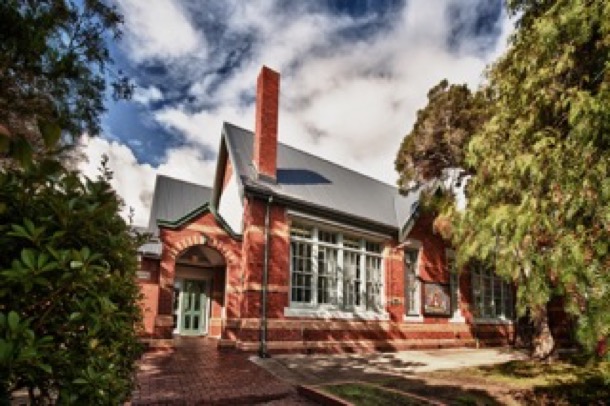 Elsternwick Primary School

Alfreda's and Alf's courtship was, as was the custom, a very proper affair and one would imagine that this was so, as Alf was the son of a pastor. Outings included picnics on the St Kilda Foreshore: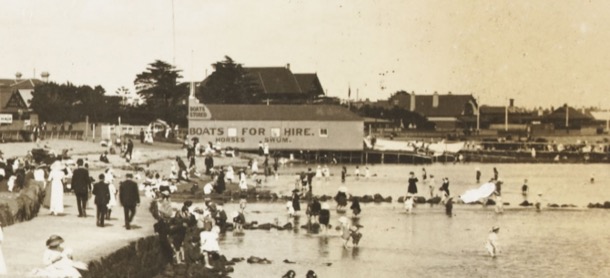 and 'doing the block ' at the Block Arcade in Collins Street: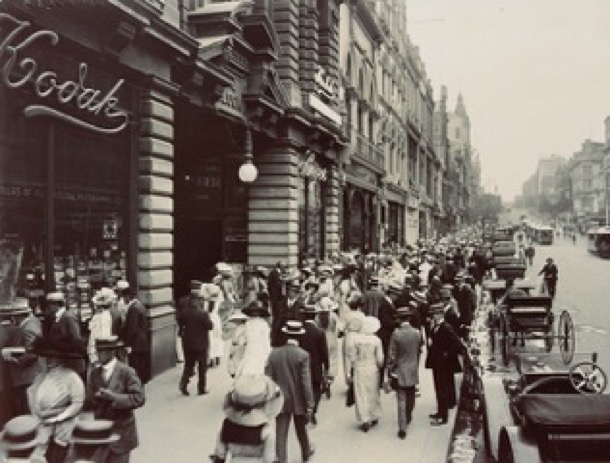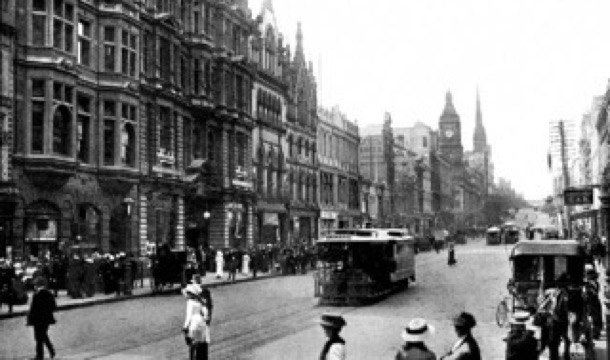 Collins Street
Alfreda pictured in 1910.
As Alf played cricket most Saturdays during the cricket season, Alfreda would have accompanied him; in fact she became so involved that she was appointed scorer.
Outings further afield involved visits to Alf's family at Diamond Creek where Alf's father was the Pastor at the Methodist Church. In the early 1900's this was really the country and Alfreda enjoyed these visits and her introduction to country life.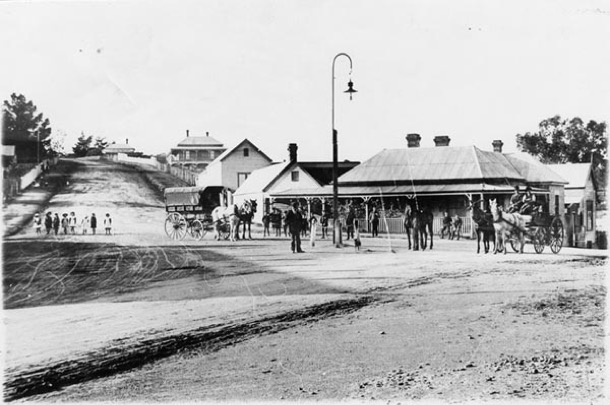 Diamond Creek around 1910
War in Europe broke out in 1914. Droves of young Australian men were enlisting in the army, hoping that it would last long enough for them to get there and have the great adventure it promised to be. A wave of fervent nationalism swept the country. Alf had recovered from the rheumatic fever that had ended his teaching career, but the residual heart damage meant that he was rejected for military service. A young man not in uniform, he was given a "white feather" as a mark of cowardice.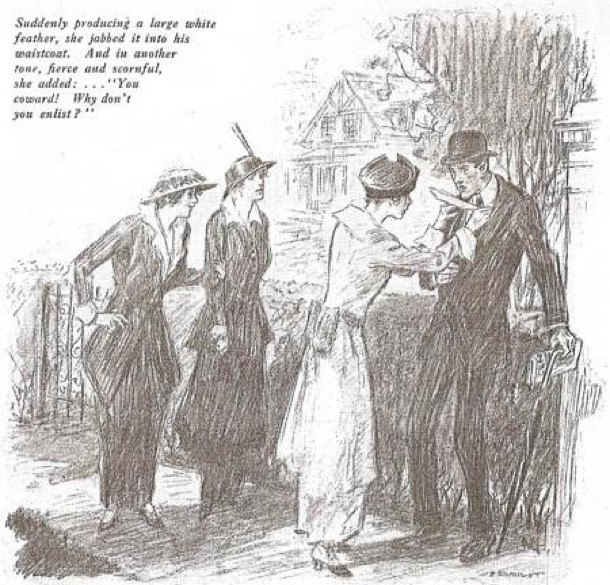 He suffered what was called a "nervous breakdown" which, at the time, was attributed to embarrassment and shame.
During his recovery, he lived in the small town of Eildon Weir, 140 kilometres away, where he managed the general store, selling supplies to the men building the weir.
Alfreda remained loyal to Alf first through his illness, which today we would call clinical depression, and then through his extended absence at Eildon Weir.
Later in 1914 Alfreda's family moved to Surrey Hills, and Alf moved with them. Alfreda got a job teaching at Balwyn Primary School and Alf went back to his city job. They lived at Elwood Street Surrey Hills. Alf told the story of walking with a lantern down Florence Road in the early morning to catch the train at Surrey Hills station.
Alf and Alfreda were married on December 27th, 1916, at the Surrey Hills Methodist Church, which is still there today: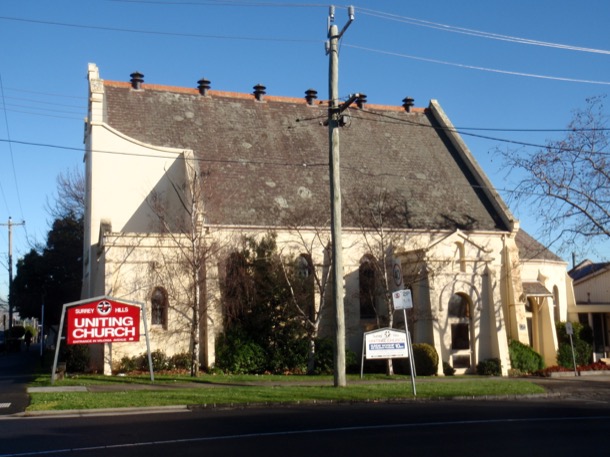 Alfreda did not dress as a bride. Marge tells us in the tapes that this was because it was war time, but a quick search shows plenty of women in full bridal regalia from that time. Perhaps they were super sensitive to how it would look, given that Alf was not "in uniform". In any case, she wore a cream silk suit. She may well have had it made in the new fashion of flared skirts: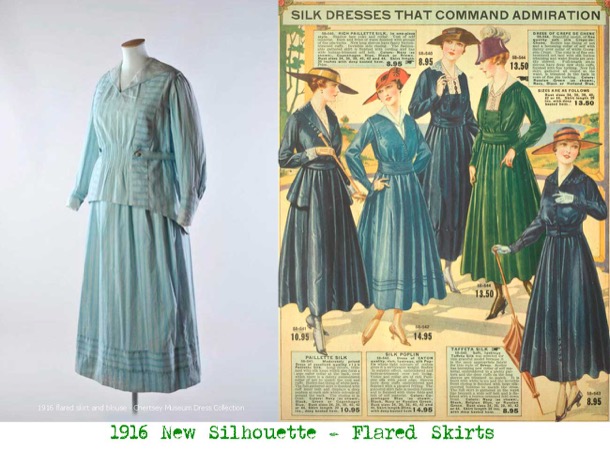 And underneath she would have worn a body moulding corset. Bras, which supported rather than moulded, were in their infancy at this time. They were patented in 1914.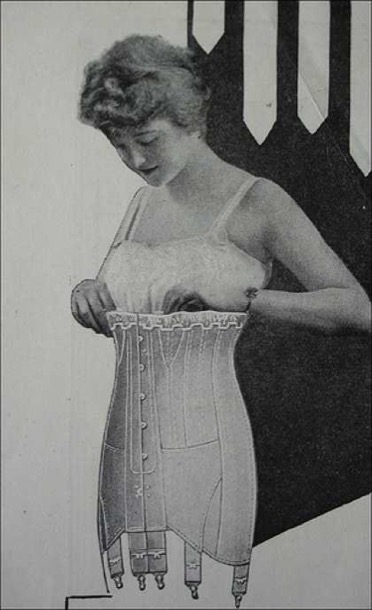 The couple honeymooned at Ocean Grove. There was a steam train all the way to Queenscliff at the most southerly part of the Bellarine Peninsular. And then there would have been a bus to Ocean Grove and finally a ferry across the river.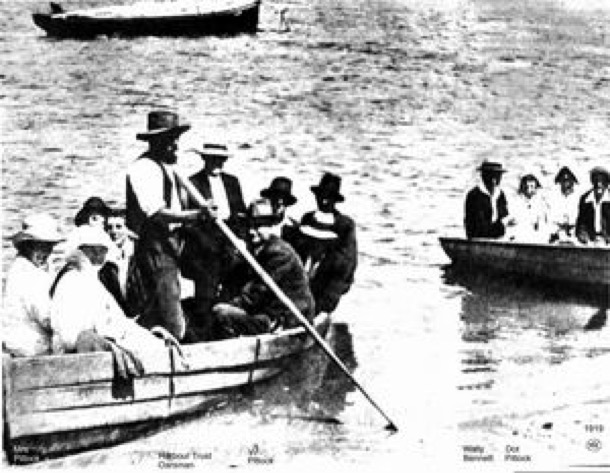 Until 1927, the only way to cross the river to Ocean Grove was by ferry and local ferryman Mr Abenathy would row you across for six pence.

Alf and Alfreda set up home back at Eildon Weir, where Alf resumed his job managing the store.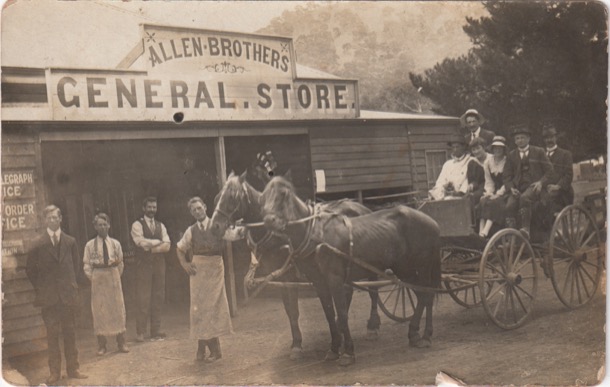 Out the front of the Eildon Weir store. Alf in a suit at the extreme left.


Alfreda had become pregnant very quickly, and the first few months of their married life had been hectic. But the still birth of the baby at seven months was attributed to a fall. It was flood time at Eildon Weir, and no doctor could get to her. A local midwife helped her through the difficulties of labour with a dead baby. She lost a lot of blood and struggled for twenty-four hours in the final stages of labour. Afterwards, she was not allowed to walk for six weeks.
Alf buried the dead child in the back yard of their little house. It was a boy, who was to have been named Peter. Interestingly it wasn't until 1930 that "viable" still born babies had to be even reported to the authorities, and even later before they were registered. Nowadays a doctors certificate accompanies a detailed registration document, which must be lodged within forty-eight hours.
Within a couple of years the weir building project was finished, the workers dispersed and the now deserted town was swallowed up by the new Lake Eildon.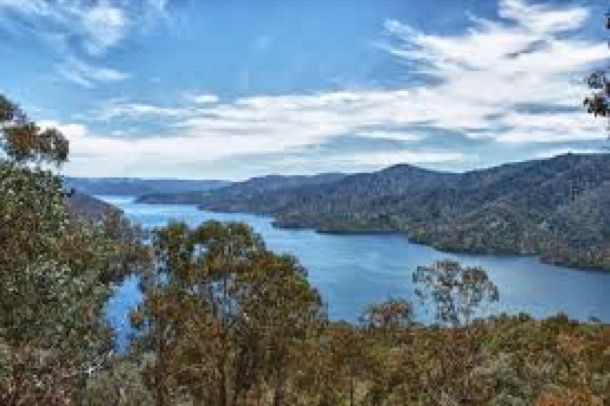 Eildon today.

Alf and Alfreda moved back to Deepdene, an eastern suburb, and Alf returned to his city job at Blocky Stone.