30 09 15 17:29 Filed in:
Alice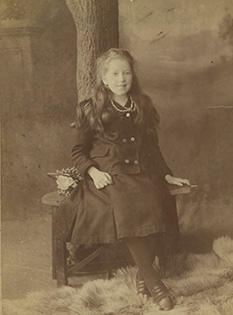 Late July 2007, on a clear winters day in Chiltern, a small Northern Victorian town I found myself standing by my great aunt's graveside. Alice Martha Coates died on the 8th of October 1906, aged eleven and a half.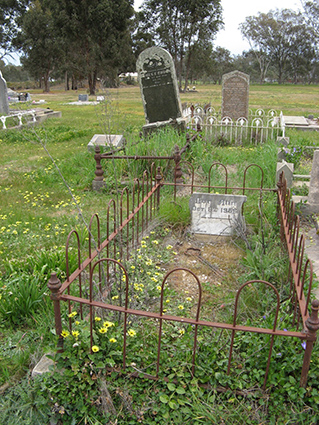 Thomas and Tessa had just been married at Nagambie and we were heading up the Hume Highway for a little R & R with Anne and Ben in the vineyards of Rutherglen. As we approached the turn off to Chiltern, 38k past Wangaratta where my grandfather Alfred had lived as a boy, we decided to have an 'explore'. We turned towards Chiltern and found ourselves in the historic main street, complete with restored shopfronts, antique shops and the Historical Society, open for business.

Margaret and I, aware that our mother had been named after her, had grown up hearing our grandfather talk in hallowed tones of
'our little Allie'
who, in our childhood memories, was almost saint like. You must remember that Margaret and I had grown up on a diet of novels such as
Little Women
by Louisa May Alcott, one of our favourites. In this novel Beth March, a child almost too good to be true and therefore likely not long for this world dies a lingering but saintly death, nursed by her adoring older sister. Fertile imagination conjured up such scenes as we heard the stories of little Allie's death or held the remembrance badge portraying her as a pretty, serious child. Allie died at Chiltern but that was all I knew, so into the Historical Society to find out more.

The building was slightly musty, its walls covered in old photographs and fortunately for us, as is so often the case, it was staffed by an enthusiastic and knowledgable volunteer. Yes, he knew about Reverend Alfred Coates : We think he lived in this house and yes his youngest daughter died here. After rummaging in the filing cabinet we had the location of the grave in the Chiltern Cemetery and we were able to read a newspaper report on the well attended funeral. Alice had obviously been ill for several weeks and it was no doubt a big topic of conversation in the town, especially as she was the daughter of a much loved Pastor. Maybe other children in the town were also ill in those same weeks.
Who was Alice Martha Coates, our great aunt who died aged eleven?

Our grandfather's parents were Alfred senior, a Methodist parson, and Emma. The church chose his positions and moved the family every three years, in their case throughout country Victoria. They had four children, Florence, Alfred (our grandfather), Alice and Arthur. The photographs below show Allie with her parents and their house in Chiltern.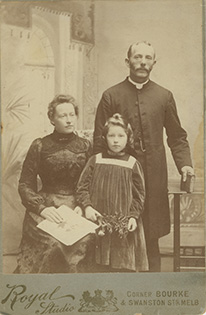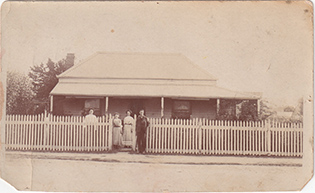 Allie died from the disease Diphtheria. This was a very common childhood disease of the times. Nowadays we have a vaccine for it, and antibiotics to treat it, but in those days it was one of the most feared childhood diseases.
It was highly contagious, and Emma and Alfred must have been very worried about the other children catching it. At first the symptoms are like those of a cold, but a horrible film, like a spider web, grows on the back of the throat or in the nose, and makes it hard to breathe. Alice must have had a really bad dose, because only one in ten people over five died from Diphtheria.

Armed with directions to the cemetery we politely extracted ourselves before we heard the complete history of Chiltern and stepped outside into the twenty-first century world. The cemetery is located outside the now small town, in slightly undulating country. It was chilly that day but this small country cemetery would have seen many blistering hot summer days. My thoughts turned to my grandfather: Allie's older brother Alf, standing with his family at the graveside during the funeral. Some memories were no doubt already etched in his memory and others were forming These would combine to become the story of this tragic event passed down to us.

The little remembrance badge of Allie (shown below) lived in a wooden box on Alf's desk. As children, we drank in the pathos of her beauty and goodness, amplified by the Victorian novels we read. The telling and retelling of little Allie's story first by our grandfather and then our mother and aunt has helped Allie's story retain its enduring poignancy, lifting it out of the commonplace into the world of idealised tragic heroines.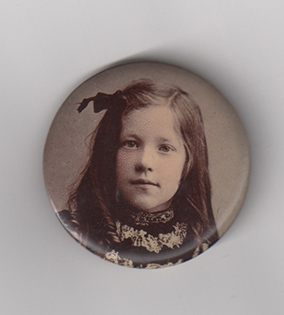 Allie's grave is indeed in the Chiltern Cemetery, still intact. The modest headstone is there surrounded by the typical wrought iron fence of the era. The only flowers are those of the Cape Weed Daisies growing in abundance throughout the cemetery. The inscription is still legible and simply reads:
Our Allie October 8th 1906.
As I stood there the story suddenly seemed much more real. Allie was no longer the tragic heroine, but a little girl who died an unpleasant death, mourned by her distraught family.
I picked a small bunch of the Cape Weed daisies and placed it front of the headstone.