08 02 23 13:08 Filed in:
Alice
Our plan was to write about hairstyles. Many of our family photos feature the hairstyles that were popular at the time, so we spent a long time gazing at the photos. Soon we found ourselves discussing particular people: their lives, their relationships, the circumstances of particular photos.
This post therefore is about hairstyles, but we have allowed ourselves a much broader scope.

ALFRED JOHN COATES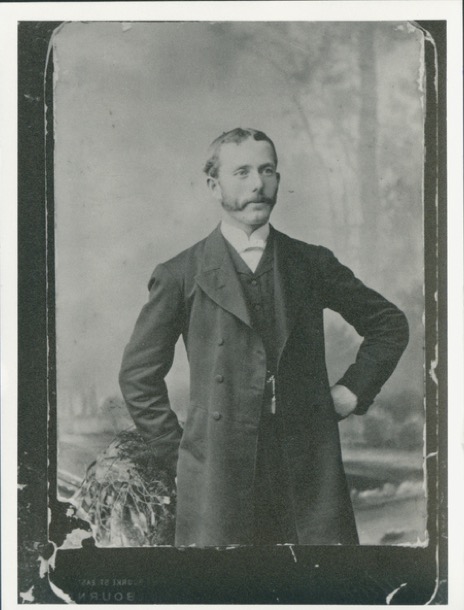 Alfred John Coates, born in 1857, was probably in his late twenties when this photo was taken. He was our maternal great grandfather and was a Methodist Pastor for most of his working life. In this photograph Alfred is a young man in prime of life, dressed in formal dress and sporting the fashion of the day: mutton chop whiskers, carefully manicured to join artfully with the moustache. A man of destiny, the misty 'bush' behind him, he stands erect, eyes on the future. At this time Alfred was apparently a boiler maker in Ballarat.
Men's facial hair trends were changing rapidly in the late 1800s. Long beards were out and clean chins and cheeks and a well-manicured moustache were in. To achieve this look men would need to go to a barber two to three times a week or shave themselves.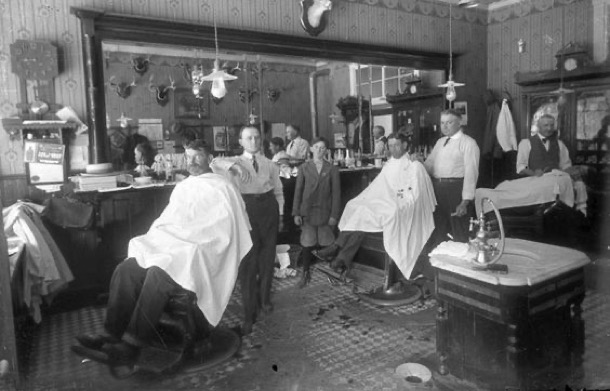 Shaving oneself may have been a financial necessity at times but it could also be a dangerous procedure. Shaving was done with a straight steel razor that required care and expertise, not only in the act of shaving the gentleman, but also in the care of the blade. To keep it sharp, the blade was rubbed against a leather or canvas strap before each new shave. As well as the blade, shaving soap, shaving brushes, combs, oils and wax were essential items to achieve the desired effect.
Having a photograph taken in a studio was a special occasion and a relatively expensive exercise. One can imagine that Alfred may have had a trip to the barber to ensure that he looked his best.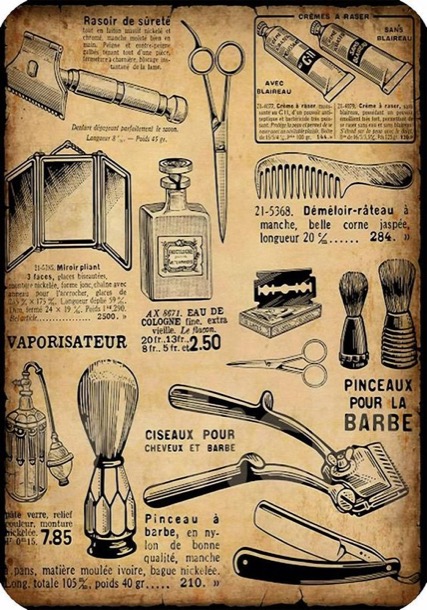 Safety steel razor blades that made shaving much easier were not invented until 1895 by an American business man with French heritage.
King C. Gillette invented a low cost blade that was easily replaceable and gave men safety and the freedom to achieve the look desired themselves.


EMMA ELIZABETH DAU
Alfred married Emma Elizabeth Dau in 1888. He was thirty-two and she was twenty Maybe this photo was taken at this time: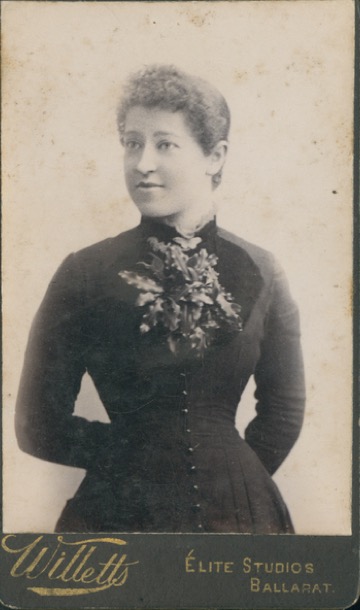 Emma is dressed in the style of the day, hourglass figure no doubt with a corseted waist as she gazes into her future with a determined tilt of her chin. Her hair is tightly curled at the front and pulled back into either a bun or pinned up plait.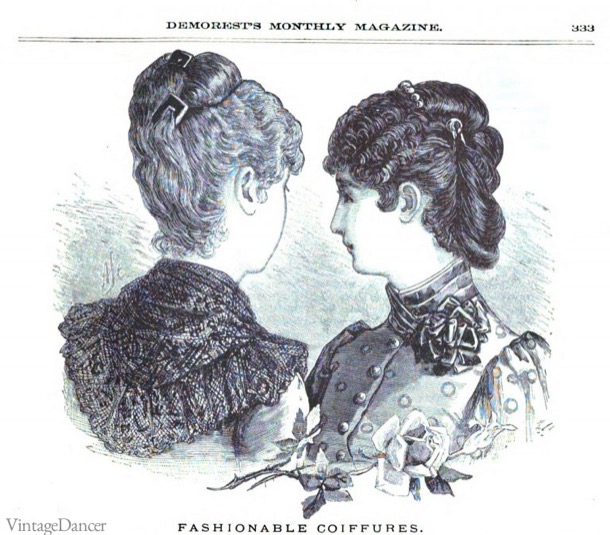 Unlike the men who had barbers to attend to their needs, there don't appear to be many ladies' hairdressers. Women had many home implements and potions and maybe sisters and mothers helped each other with their hair.
Young Emma's tight curls may have been created with curling irons. A curling iron consisted of a metal rod that was held over a flame or burning alcohol to heat it, before wrapping the hair around it. Hey presto, curls!
Later in life, Emma wore her hair in a more relaxed style, loosely pulled back from her face and pinned up into a bun at the back:
When this photo was taken, the height of fashion for women was to wear their hair with more volume at the sides. This was created by using clumps of hair leftover in combs and brushes, to pad out the sides. Emma would not have gone to these lengths in later life, but on her dressing table she would have had a brush, comb, hand mirror and china box, with a lid for the collection of hair caught in brushes or combs. We can remember our grandmother, Alfreda, also having these items on her dressing table. She wore her hair long all her life. During the day it was loosely tied back in a bun, brushed out at night, and the 'ratts' collected from the brush and placed in the china box. She then plaited her hair into a loose, single long plait and was ready for bed.


NINE DAU SISTERS
Emma Coates, was born Emma Dau. She was one of seventeen. The first nine of these were girls.
We have three amazing little photos of some of the Dau children. We have spent a long time staring at these images, noticing little details, wondering about the lives of these nine little girls.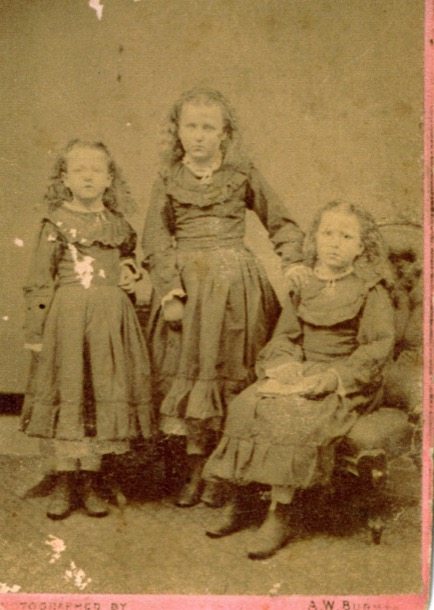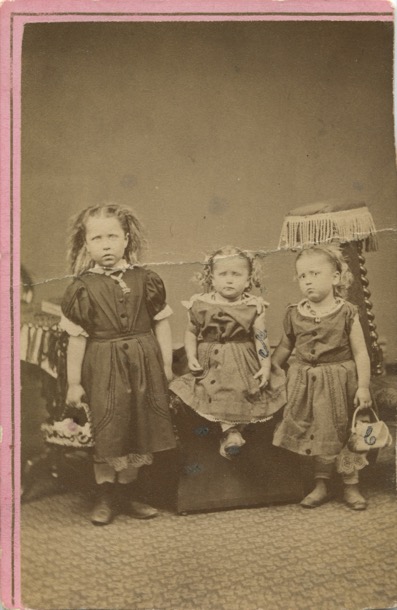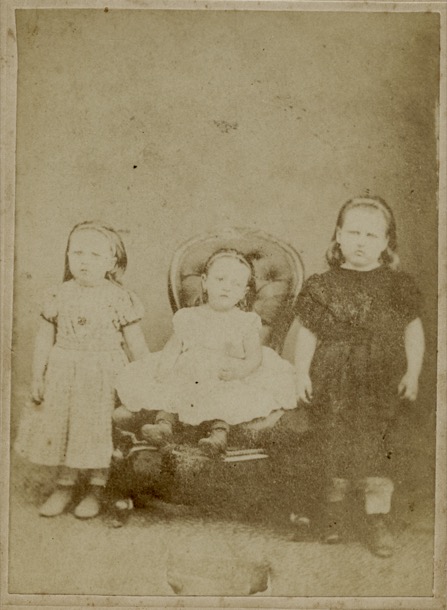 The first question we had was, "Were the three photos taken at the same time?". There is such a family resemblance, we weren't sure at first whether they were different people in the three photos. The carpet gives away that they were taken in the same studio. On the back of one of the playing card sized photos, we see "one shilling per copy". For context, at that time, a shilling was more than a day's wage for a working man.
It seems most likely that the three photos were taken on the same day, and they are the nine oldest children, all daughters, of Joachim and Martha Dau, our great, great grandparents.
The photo of the three eldest has writing on the back: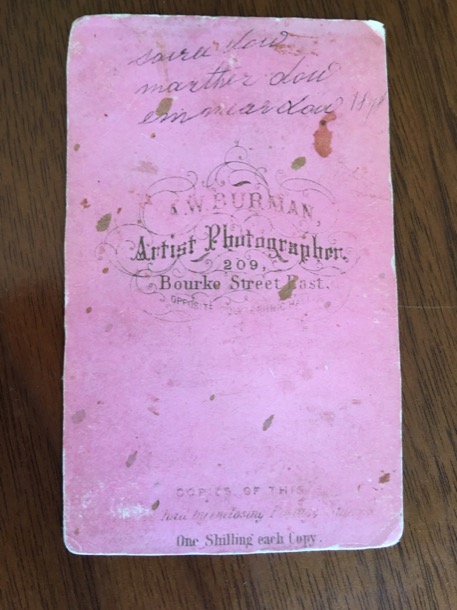 The fact that Martha is misspelt as "marther", and that no capital letters are used, might be a clue. It was not our mother Alice, nor her parents. None of them would have made such a basic spelling error! The surname is listed as "Dow".
If those names are correct, then these are the three eldest Dau children. Standing is Sarah, the eldest. the other two are Martha, known as Mishi, and Emma, our great grandmother.
Thanks to the Wandong Historical group, we have the details of nearly all the Dau children.
The next three girls are Bella, Jane and Sophia, followed by Alice, and two others, possibly Annie and Nance, although some sources have Annie and Nance as the same person.
There is no date on these photos, but there are nine girls. The nine first Dau children, all girls were born between 1866 and about 1878. This puts the date of the photos at about 1880, with Sarah, the eldest, aged 14 and the youngest aged 2.
The girls' father, Joachim, had spelt his surname, Dau. We don't know the exact date they changed it to Dow, but Frederick enlisted to fight in the Boer War as Dow in 1901, and Arthur, who became a professional soldier, changed his name by deed poll to Dow. The same anti German sentiment that caused the British Royals to change their surname to Windsor from Saax Coburg was no doubt responsible. And yet the Dau spelling persists alongside the Dow spelling, right up until 1929, when Sarah, the eldest wrote about her childhood. Our mother and aunt did not even know about the Dau spelling.
The photographer is listed on the back as Burman, 209 Bourke St Melbourne. The building is still there. This is what it looks like today: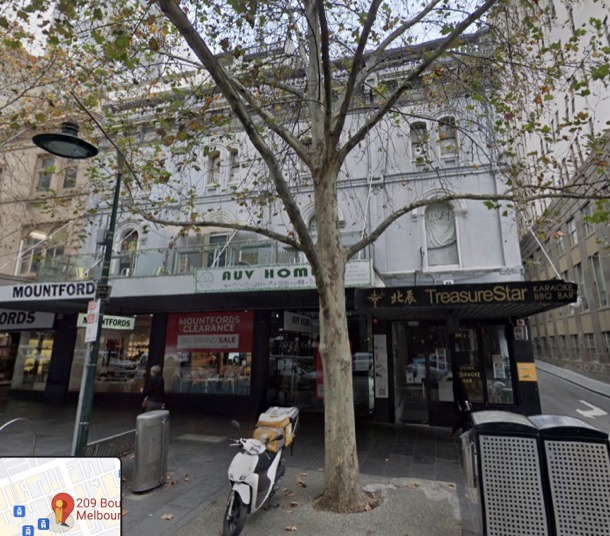 There are a number of old photos by Burman available on line, with that tell-tale carpet visible in some. This one, "Portrait of a Lady", which uses the same chair as two of our photos, is from C1865.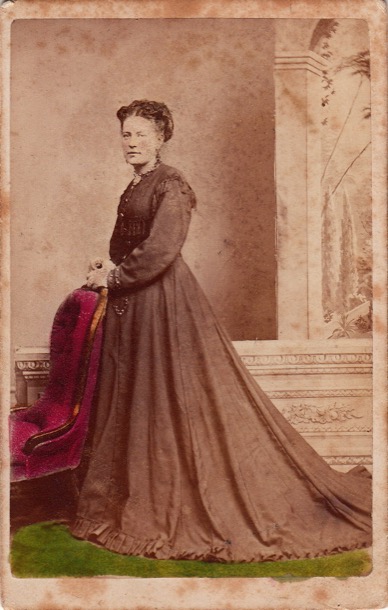 We picture the little farm girls, in their new dresses, in the big noisy city. They would have come on the train, to Flinders Street from Wallan, and walked the three city blocks to the studio.
The city streets would have looked like this: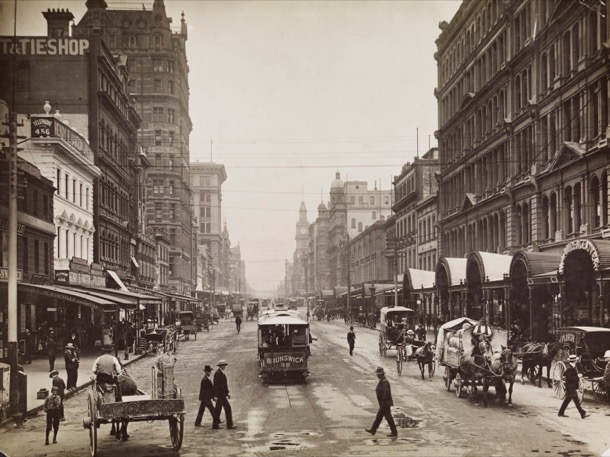 Their hair would had been in rags overnight. The curls in Sarah, Martha and Emma's hair have been successful; the others less so. All of them have a ribbon holding their hair back from their face.
The dresses are interesting. The same fabric and pattern seems to have been used for the three eldest girls. Who made them? The next three also have a similar style. All have sturdy boots and frilly pantaloons. These outfits would have been worn to church on Sundays. Did they wear them for the train journey, or change at the studio?
The only other girl, born in 1887, preceded and followed by the seven boys, was Ethel. She wrote diary entries, still held by the Wandong Historical group. Ethel wrote about the boots, which are such a feature of these little girls' photos. "the rough track across the paddocks and hills, two miles to the little school at Wandong. In wintertime, we had to cross many flooded gullies. We wore strong boots and I was often peeved, as I compared my strong shoes with the dainty ones worn by the other girls at school."
It was quite an expense to provide boots for so many children.
Our appetite for finding out more about this family is well and truly whetted. We plan further exploration, including an excursion to Wandong.


THREE HOLM SISTERS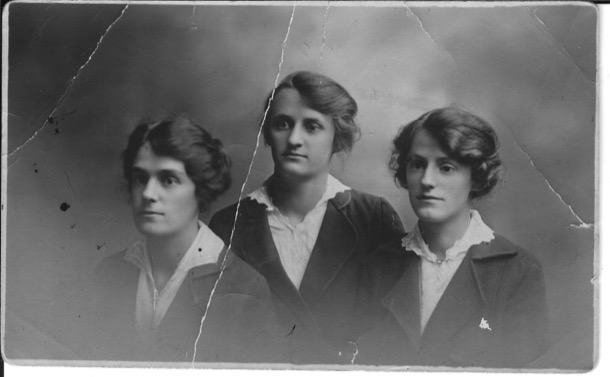 These three young women, probably photographed just before the first world war are (left to right) Alfreda, Beatrice and Berta Holm. Alfreda, our maternal grandmother, was the oldest of the three, perhaps just twenty at the time. The three sisters have their long hair swept back in gentle waves, to a loose bun or twist at the back.
We wonder whether they did the white work on their shirts? We know that Beatrice and Berta spent time working in Finders Lane, doing the white embroidery known at the time as "white work". So much we can only guess at.
They all gaze into the distance: Alfreda with a determined steely gaze, Beat with a quizzical half smile and Bert's beautiful eyes not quite hiding her vulnerability. We can only guess, as they gaze into a future where world war is imminent.
Alfreda wore her hair long all her life. We can remember her brushing her hair at night and putting it into a long plait.


TWO COATES SISTERS
It's hard to be a younger sister, but our mother Alice, was the fairly plain younger sister of an extraordinary beauty.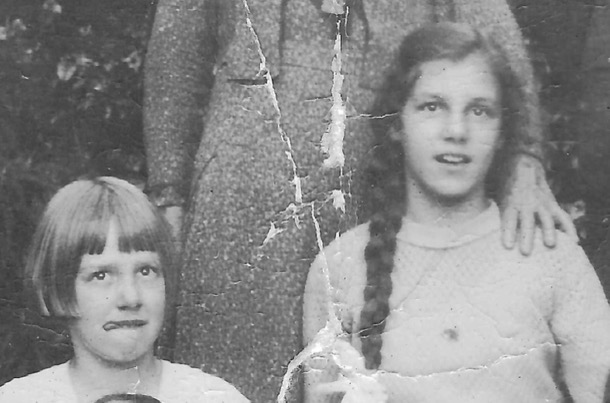 She didn't have to deal with social media, but, when she was growing up in the 1930s, feminine beauty was important for girls.
Alice was an intelligent and able scholar, and, thank goodness, this was highly valued in her family. Her mother, Alfreda, had made sacrifices and fought for her own education. For their later secondary school, the girls were sent, at huge expense, to a city based secondary school, all the way from Croydon.
Only the wealthiest or most determined families sent their girls to school, after the age of fourteen. At McRobinson Girls' High School, Marge and Alice were taught by, and shared classes with, the very brightest and best: future women scientists, lawyers and doctors, who would pave the way for our own generation.
But, from her school reports, we see that, while she held her own on the whole, Alice was not exceptional in that auspicious company. And she was crippled, probably her whole life, by a sense of inferiority.
And it is in their respective hair cuts from that time, that we see how the contrast between the two girls was accentuated.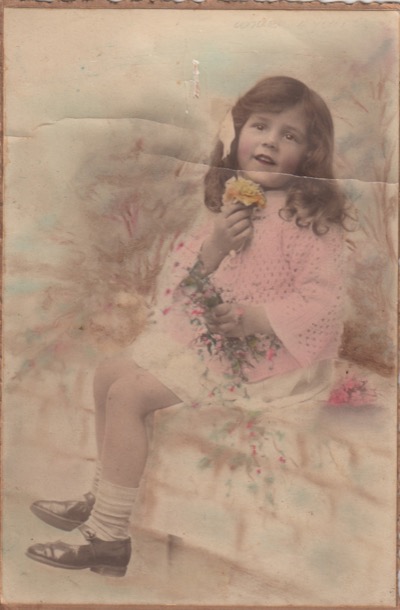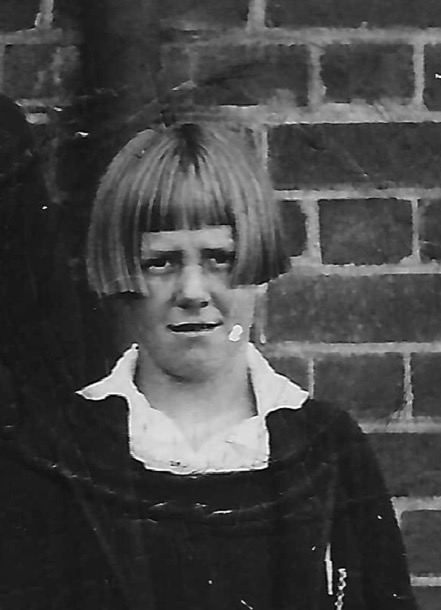 When I stare at those grainy old photos, at Marge's lush locks, and Alice's blunt, unfashionable short bob, and straight fringe, I cannot help but ask "Why?". Why did Alfreda allow her younger daughter to wear such an unflattering style. Why was the difference in feminine beauty accentuated and underlined so prominently by the two hairstyles? How might Alice's life have been different, had she been encouraged to make the most of her looks, as well as her brains?
Even as they began working life, both at Maribyrnong Munitions Factory, in 1939, the difference remained. Here Marge is on the far right, and Alice on the far left. Alice is nineteen and Marge twenty-one. But the choice of hairstyle reflects very different attitudes about their appearance: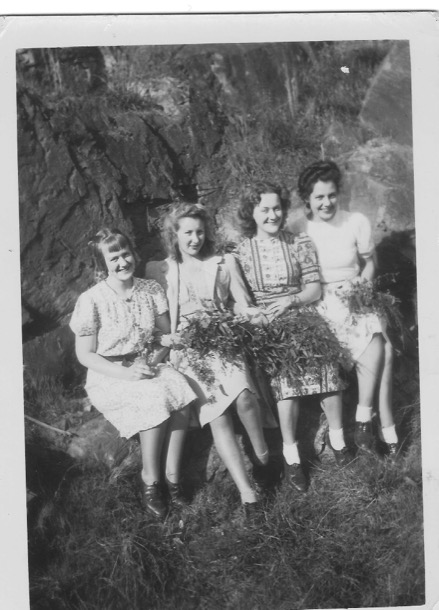 THE VICTORY ROLL
These two studio photographs of Marge are portraits of a beautiful young woman, but what does the hair tell us?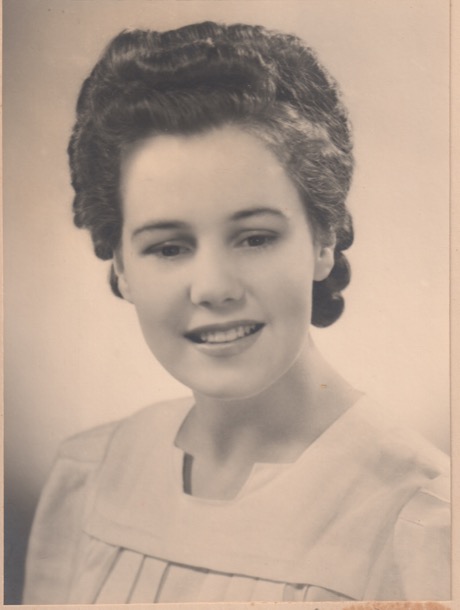 Here, a younger Marge still has very long hair, worn up now, as befitted a young woman who was no longer a child. Pretty curls and barrel curls were the look, and Marge had beautiful, wavy, very cooperative hair and was able to construct 'the look' very successfully.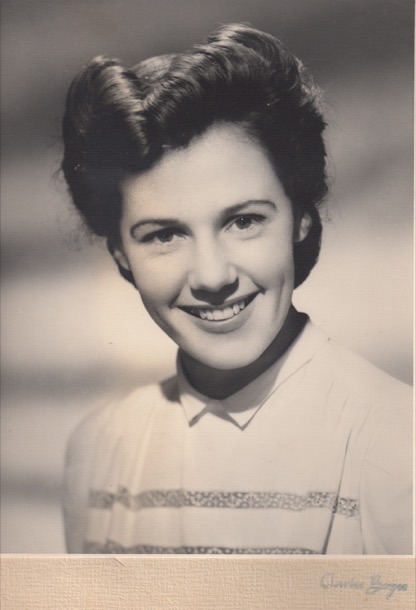 An older Marge, maybe just twenty, posed for this studio photograph as a young woman of the war years, in the "hottest" style of the time. This photograph shows a confident young woman with a job, and presumably many admirers.
During the war, particularly during the Battle of Britain, the 'Victory Roll' evolved as a very popular and flattering hairstyle. The style was based on an aerobatic manoeuvre performed by pilots to signify victory. The planes would spin horizontally in celebration. The 'Victory Roll' hairstyle would have been difficult to execute, so hours of practice and experimentation was required. The style has stood the test of time, as it is still popular today in 'retro' dressing. There are many YouTube videos available with full and detailed instructions.


'THE SET '
After the second world war, women's hair fashion was dominated by 'the set', often a weekly set. Some women did their own at home, but others, such as our mother Alice, went to their local hairdresser.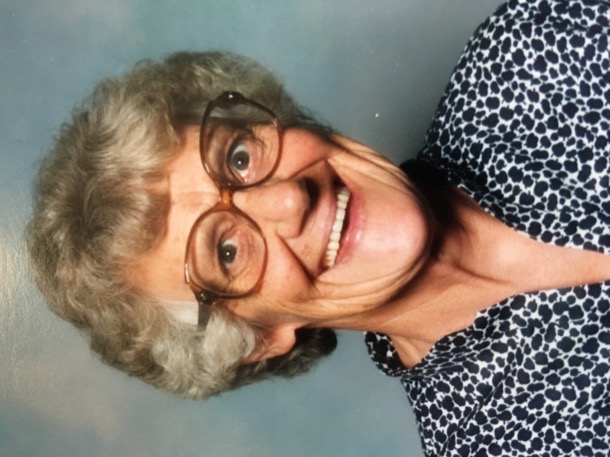 The set involved a headful of rollers, tightly wound on wet hair, then dried under a hood dryer. This often took almost an hour, so there was time to read or chat.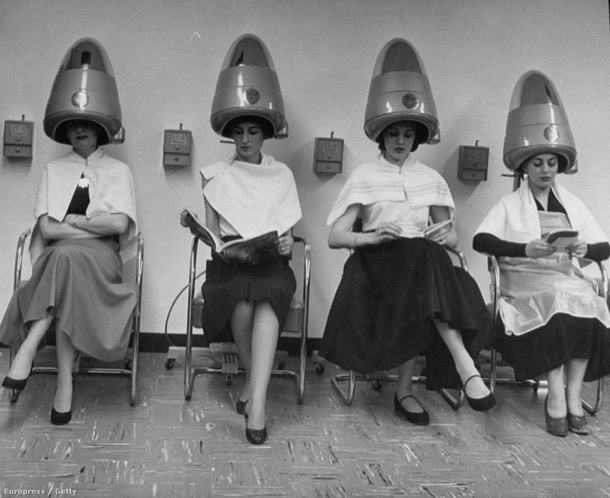 Through the ages, and the generations of our family, both sexes' hair styles have been influenced by the fashion of the day. We have all had cuts, or not. We have curled and permed and coloured and bleached, with varied results.
Today, people are not rigidly restricted to one style, as they were in the past, but have any options.

The lyrics from the musical Hair says it all: .

'Gimme a head with hair
Long beautiful hair
Shining, gleaming,
Streaming, flaxen, waxen'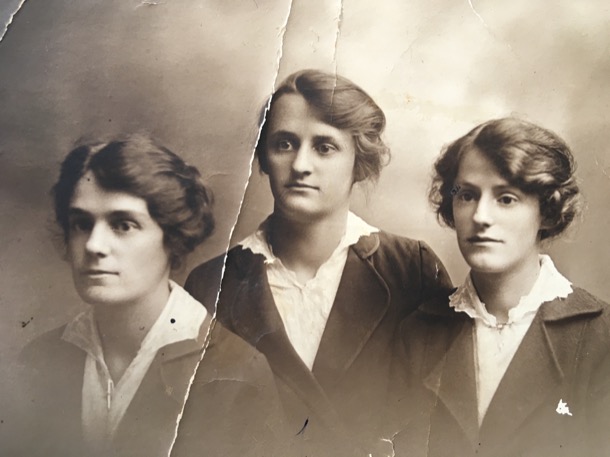 These three young women are our grandmother Alfreda on the left, with her two younger sisters, Beatrice in the middle and Berta on the right.
Alfreda's set jaw and determined look reflect her independence and demand for an education. I fancy I can see both the rebel and the farmer in Beatrice's broad face. But look at the gentle, faraway, passive prettiness of Berta. What experiences are already clouding her young face?

About ten percent of the whole of Australia'a population, the country's young, fit men, set off to war in 1914. More than half of them were killed, gassed, wounded or taken prisoner. There was no such diagnosis as "post traumatic stress", but we can extrapolate from the modern experience of returning soldiers.
What happened to the equivalent ten percent of young women, who, in different circumstances, would have been marrying them and having their babies?
Our Auntie Bert became one of the many "maiden aunts" of that very specific generation. The family lore is that she "had opportunities" to marry but "chose to stay in the bosom of her family". We do not know what the reality of her young life was. Had she been a boy, she would have been one of the 417,000 men who enlisted. One would presume that virtually all the young men she might have had a romantic interest in… brothers of her friends, boys from church, at work, on the train, in her neighbourhood… nearly all would have been absent for four years from when she was 18 until she was 22.

Berta Holm was born in 1896. Her childhood and early adult life was spent in St Kilda.
The family story is that Berta and Beatrice unlike their older sister, Alfreda,
did not hunger for an education.

Alice and Marge said this in quite a disapproving tone, which made us wonder about the accuracy of the statement, that
Auntie Bert
left school at Grade 4, declaring that she would prefer to help her mother at home.
In
Grade 4 she would have been nine or ten!
At the time Victoria was a progressive state and proud to be the first Australian state to create a system of free, secular and compulsory education. This legislation introduced in 1872, required all children aged 6-15 years to attend school unless they had a reasonable excuse. Schools were built, and a system of inspectors employed to enforce compulsory education. Fines for non-attendance were five shillings and increased for further offences. Did Auntie Bert leave school at the tender age of nine or ten? We think it more likely that she attended a State school, maybe unwillingly and, after trying a private school
for young ladies, left at the age fifteen. Their disapproval of the lack of enthusiasm for education, compared to their own mother's, probably colours the story about their aunt. The view of Auntie Bert we were brought up with, was that she was
good with her hands
, but, to soften and elevate this statement in true
Holm
fashion, it was followed by,
she was a superb craftswoman and much in demand:
not academic but exceptional.


Some time after she left school Berta went to work in Flinders Lane.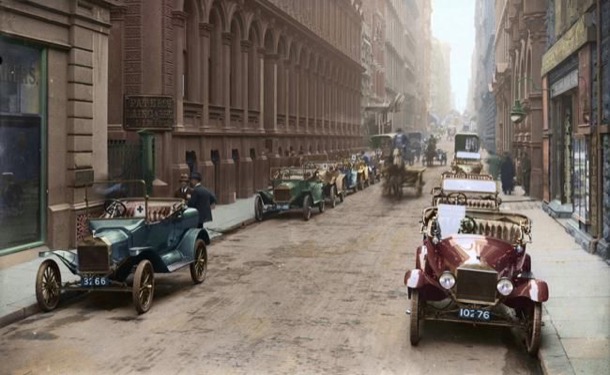 At that time Flinders Lane was the centre of the 'rag trade' where many Jewish firms had their businesses. Amongst them was
Slutskins
, for whom both Berta and Beatrice worked doing 'white work'. Whitework embroidery is the general term for hand embroidery worked with white threads on white fabrics. It is one of the most elegant and timeless styles of embroidery and was used on underwear, night gowns, table linen, handkerchiefs, baby bonnets, christening gowns and many other small items.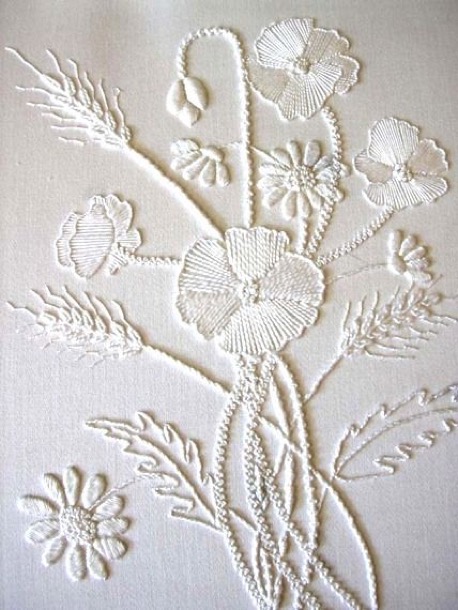 After some experience in this area Berta became forewoman, in charge of a group of other women.

We only have Alice and Marge's childhood recollections from which to piece together Berta's life.
In early 1925, when she was twenty-nine, perhaps moving away from her parents' home for the first time, she left her job, probably that responsible position as forewoman. She went, for an unspecified time, to the country, to help her married sister with a toddler and a baby, and to help serve in her brother in law's hardware shop.

Alfreda had given birth to Alice, our mother, in 1923. She had had a terrible time, alone, during her first delivery, resulting in the death of the baby. We don't know anything about Marge's birth or the subsequent few years, except that they were quite near to family help. But when Alice was fifteen months old, Alf and Alfreda moved to Bacchus Marsh. Alfreda was "weak from the birth". The descriptions of her crying, while scrubbing the floor and having to spend whole days in bed, apparently requiring the help of her unmarried sister, makes us think of post natal depression.
Alf too had what we would today call "mental health issues". He was a gentle, quite scholarly person, and the business venture in Bacchus Marsh, on the eve of the Great Depression, took a toll on his health. It is no wonder Marge and Alice remember Auntie Bert as a tower of strength and support.

In 1928, the old dry house they had been living in caught fire. At the top of the burning staircase were the little girls in their nighties, Alf sedated, because he was in the midst of a "nervous breakdown", Alfreda, reportedly trying to find her stockings, and Bert, who carried Alice down the stairs. Marge was carried down by her father, finally awake.
The destitute family were taken in by "the Pierces". Nell Pierce was a lifelong friend of Auntie Bert. Did they meet there at Bacchus Marsh? We don't know.
The family stayed on for at least a year in Bacchus Marsh, but Berta moved back to Melbourne, once again moving in with her parents, probably her only option.


Now in her early thirties and unmarried Berta must have turned her attention to a job. As far as we know this is when she decided to start her own business as a dressmaker. At first she worked from her bedroom, building her business and reputation.



The business was eventually profitable enough to allow her to move to premises in Riversdale Road, Middle Camberwell and then to Burke Road in Camberwell, just over the junction.
I can remember the junction premises quite vividly. It was one big room on the first floor. Big windows looked out onto Burke Road, letting in light and sunshine that fell on the big work tables. Several dressmakers dummies stood in the corner where the fitting room was screened by curtains. It seemed a very busy place.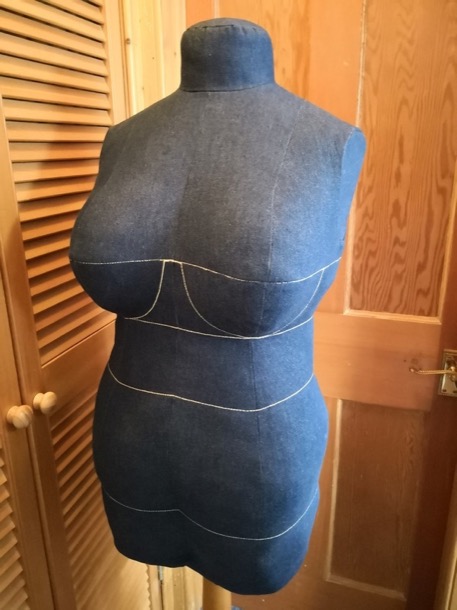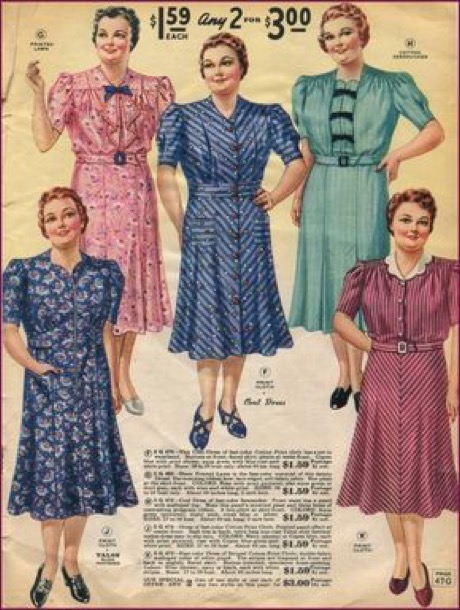 The big tables, that dominated the space were covered in the paraphernalia of dressmaking. There were several sewing machines, many reels of sewing cotton, several pairs of big dressmakers shears, other dressmaking scissors and many tins of pins. Rolls of fabric and garments in various stages of construction took up the rest of the table space. Another woman was sewing at the table, presumably an employee, so business must have been good. We were probably there for a fitting, as Auntie Bert made 'good clothes', for Mum. These beautifully tailored clothes were worn to Church and were for special occasions, including weddings: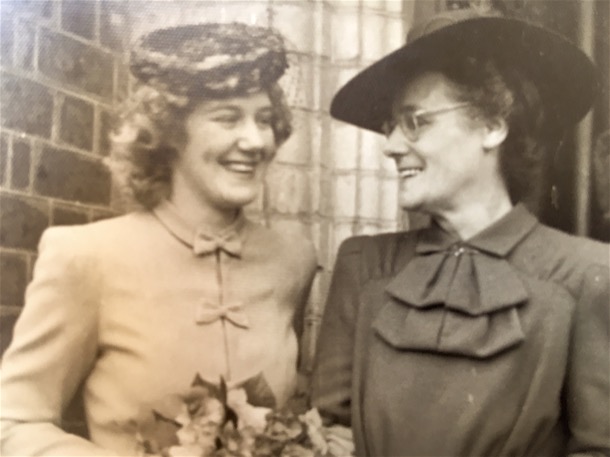 She also made us beautiful clothes including these woollen dresses: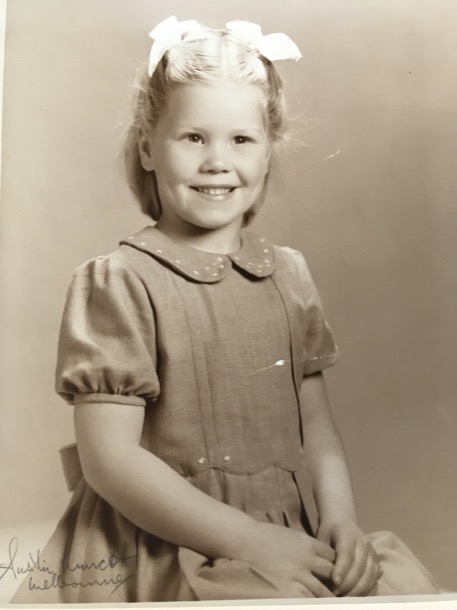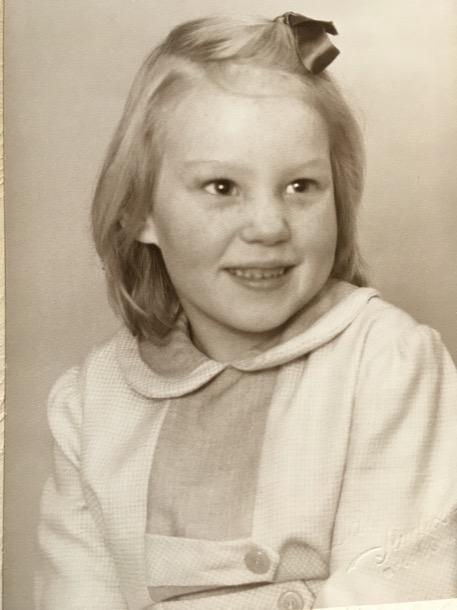 Auntie Bert had an account at Ball & Welch, a prominent department store in Finders Street, Melbourne. She needed an account for her business and a reliable source of good quality fabric for her clients. Its four floors occupied one third of the total block and stretched between Flinders Street and Flinders Lane.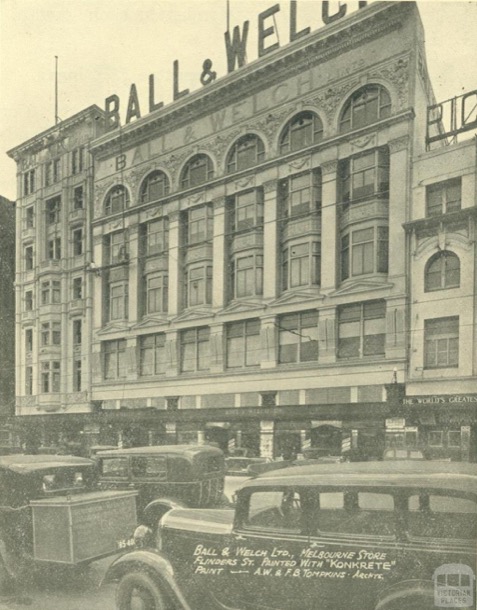 Its many departments included gloves, umbrellas and handkerchiefs, fabrics, furniture, china, millinery, furs and corsets. At one time twenty-six assistants were devoted to the sale of lace alone.
Members of the family were generously given access to Auntie Bert's account, making it possible to buy items on account and pay later. This was very useful at times, as there was no such thing as Credit Cards. At the end of the month, Auntie Bert sent out letters to all those who had used the account, and we reimbursed her by cheque. This was probably quite a task, not only the arithmetic, but also the sending out of all the individual letters.
I can remember enjoying trips to Ball&Welch. The lifts were staffed by attendants in uniform who recited the list of items available at each level as the lift rose between floors. Parcels were wrapped up in brown paper and string, on huge wooden counters. The expert shop assistants were reserved, formal and a little forbidding to a young child. The exchange of payment was quite a process. The shop assistants' job was to serve the customers, not handle the money. When payment was made, it was placed, with the hand written docket, in a metal canister that went shooting on wires across the departments and then upstairs to the Accounts Department. The docket was checked, change inserted, a receipt written and the canister whizzed back from whence it had come. Transaction complete.


The cash-ball system worked reasonably well, but the rails were intrusive and the interior layout of some stores did not allow certain counters or departments to be connected by inclined tracks. The ingenious Lamson then hit upon the concept of the "aerial railway" and set about tinkering with a gondola-like design, which became known as the wire-line or cable-carrier.
By the late 1880s, sales staff could secure cash inside a small wooden jar or canister, suspended by wheels from a taut wire that ran overhead from the sales desk to the cashier's station, which was typically a cage-like booth situated in the center of the store. By tugging firmly on a spring-loaded cord or lever known as the "propulsion," the canister would be catapulted along the wire, reaching its destination in mere seconds.
The cashier could then "return fire" with change and a receipt. Cashiers who worked in booths on levels above the sales floor could simply release the canister and let gravity return it to the appropriate counter.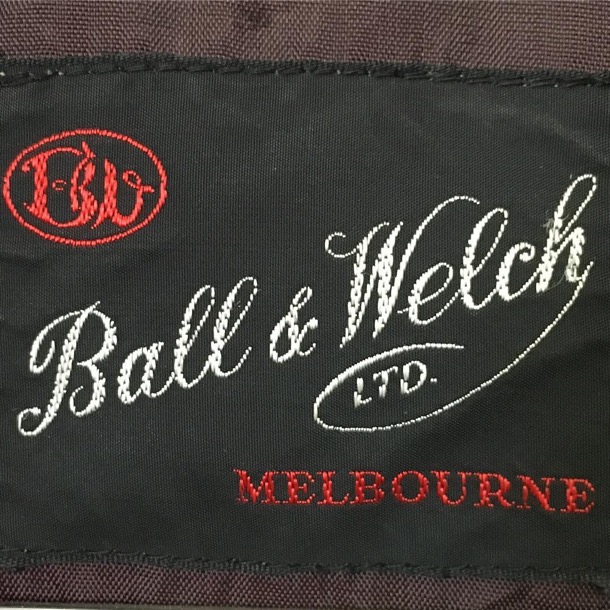 Ball and Welch closed its doors in 1970, the end of an era .

Berta's sister, Beatrice had taken up dairy farming in the early 1950s, near Cockatoo, in the Dandenong Ranges. The bulk of the work was done by her husband, and three sons. In 1955, the wife of Rob, the middle son, died, leaving a baby daughter, Julie, to be raised by her grandmother.
Into the breach stepped Berta. She moved into a small bedroom in the farm house, and became a second mother to Julie. We remember her room. It had been part of the farmhouse verandah, and the whole room was about twice the size of the single bed. It was neat, sparse and dark.
Our memory of Auntie Bert at the farm is solely inside the farm house. Unlike Auntie Beat, who mucked out the pigs, wearing layers of old jumpers and a woollen beanie, Auntie Bert was always nicely dressed. We remember her in well-cut woollen skirts, stockings and heeled court shoes, with classy jumpers and cardigans. We picture the two of them in the kitchen, both wearing aprons, turning out scones and cakes on the wood stove. Auntie Bert became a permanent and valuable member of the family, looking after the "boys" and Julie.
While her main home and focus was life at the farm, Auntie Bert continued, as she had her whole life, to be the family helper and nurse. She had looked after both her own parents in their final years, and she came to live with us to help out with her elder sister: our Nana, Alfreda, who had dementia. We remember her as a quiet unobtrusive presence in our home. A few years later she came again and helped with Alf, our grandfather, in his final weeks.
So Alice saw first hand, the skill and care of Berta's nursing:



Apart from staying temporarily with other members of the family, usually to help out during family crises, Berta lived there at the farm, until her death in 1976, aged 80.
Alice reflected on Berta's death and the simple generous life she lived:



From left to right, Nana, Auntie Bert and Alice: