30 07 19 15:36 Filed in:
Jim
Our forebears have been part Melbourne since the 1850s. They came from Europe, Ireland and Great Britain, arriving at the Port of Melbourne, to make a new life. They found a raw, settlement, recently carved from the Wurundjeri lands: a settlement coping with sewerage, ad hoc development and the pollution of emerging industry along the river. The punt, at Punt Road, provided access across the Yarra that occasionally broke its banks and inundated the new city streets. From this frontier town the newcomers moved out into the country to make their fortunes and raise families. Some of their descendants, our extended family, remain in country Victoria but many, over the generations have made their lives here and left traces in the built environment of Melbourne.
These posts can be viewed as a virtual pilgrimage of the structures and buildings in Melbourne and how they relate to our family. Melbourne is undergoing a tumultuous time of change, as, in 2019, its population grows to nearly five million. Our family landmarks are inevitably caught up in the changes too, as you will see.

Our first post covers the suburb of Hawthorn.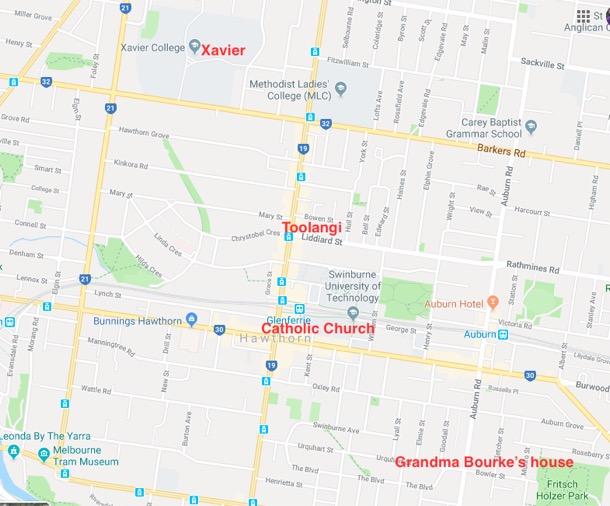 Glenferrie Road

733 Glenferrie Road is listed on the Glenferrie Road Historic walk as the
'historic mansion Toolangi. It was built in1905 as a doctor's surgery and residence for William Clayton, physician and surgeon.'
This house is significant to our family as two generations of Bourke doctors lived and worked here and our father spent his teenage years here.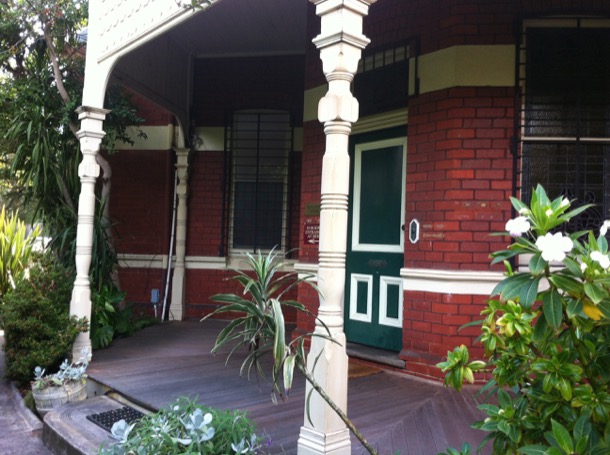 It was in the late 1930s that our paternal grandfather Dr. Hugh Bourke and family moved to Glenferrie Road from Koroit. Presumably Grandfather Bourke bought both the property and the medical practice.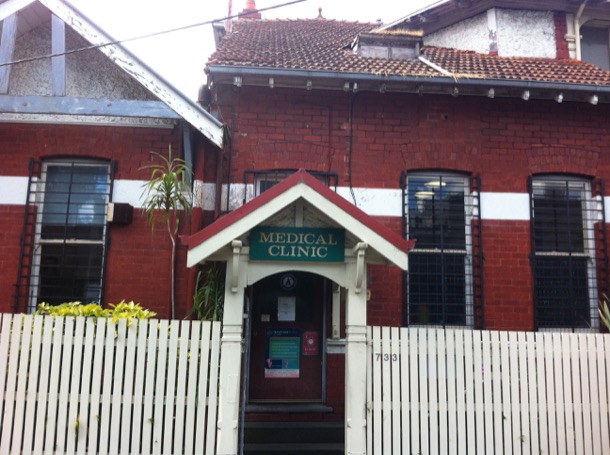 At this time, our father was at secondary school at Xavier, where he had boarded until the move. He continued to live in the Glenferrie Road house until he was married in 1945.
After Grandpa Bourke's death in 1950, Grandma Bourke moved out and Dad's brother Jack and his family moved into the house. Jack took over the practice, which he ran until he retired.
I have clear memories of the house, both visiting Uncle Jack and, once or twice, the surgery. The house seemed enormous and imposing, and as we mentioned in a previous post, the paraphernalia of Roman Catholicism was very evident. Uncle Jack also had a greenhouse in the back garden where he grew orchids and Christmas Lilies. The garden shed and the greenhouse where still there until recently.
I still associate the perfume of Christmas Lilies with visits to Grandma Bourke at Christmas.
The building next door to Toolangi was the Hawthorn Motor Garage, built in 1912 . From the 1920s the garage was run by Albert James Kane and family, who had it for 20 to 30 years. They introduced the first electric petrol pump in Hawthorn.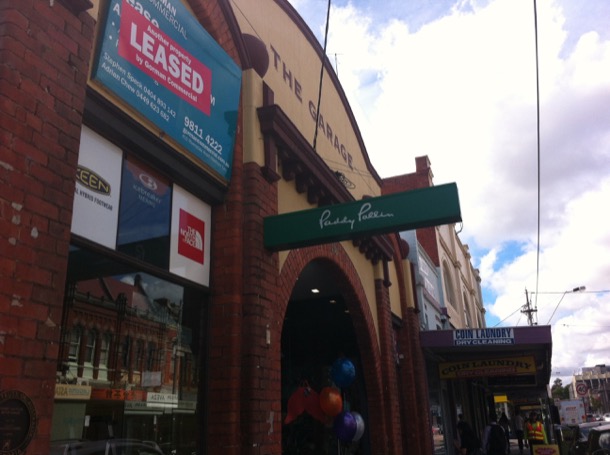 The Hawthorn Motor Garage building is on the Victorian Heritage Register. It is the oldest known purpose-built motor garage in Victoria. Dad would have been very familiar with the Kanes and the garage: while courting our mother, he was lucky enough to be able to borrow his father's car and use his petrol coupons to fill up at the garage next door. As it was wartime, petrol was strictly rationed but doctors received extra coupons, that Dr. Hugh obviously allowed his son to use.
In April 2019, when we visited it, the site of the house and the garage were in the process of being redeveloped. The garden and out buildings have been cleared away but the main structures of the Hawthorn Motor Garage and Toolangi remain. They will be repurposed as part of the new apartment complex being built on this corner.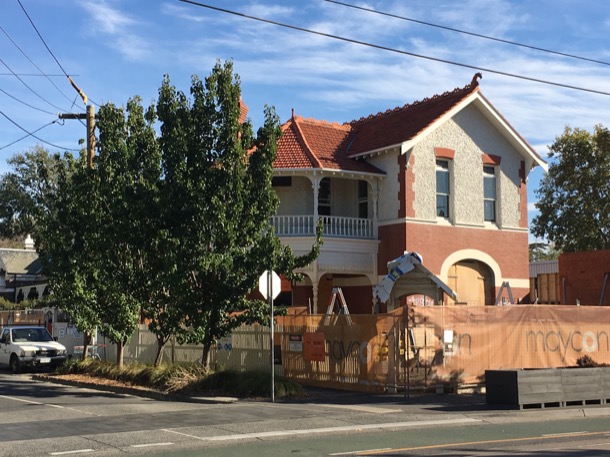 At the other end of Glenferrie Road shops is the Catholic Church. An imposing bluestone structure, the Church of the Immaculate Conception still dominates this busy corner. The Bourke family would have attended Mass here every Sunday. Now I walk past here every six weeks on my way to have my hair cut. Time marches on.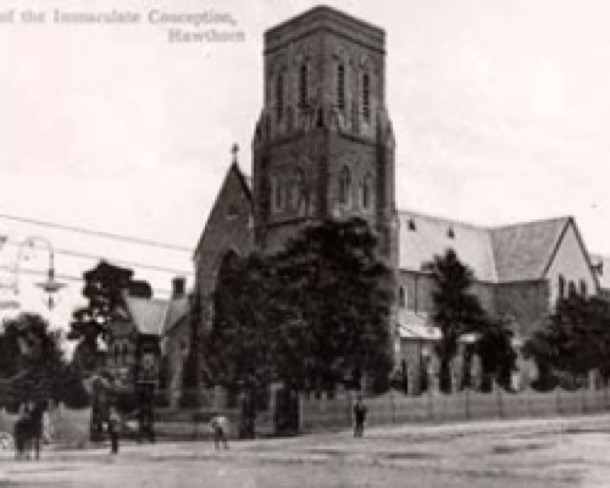 Urquart Street
After our grandfather Hugh's death in 1950, Grandma Bourke moved a few streets away to Urquhart Street, still in Hawthorn, leaving Jack to bring up his family and run his practice from the Glenferrie Road house.
We remember this house well. Grandma Bourke was a keen gardener whose beautiful roses and bulbs were fertilised by the manure from our parents' chooks. A huge weeping deciduous tree in the front yard afforded a play area for visiting grandchildren. The house was big enough for our aunt and family, who lived near Warrnambool, to stay over Christmas.
It had a coal cellar, accessed by a trapdoor on the back verandah, with fed the coke heater.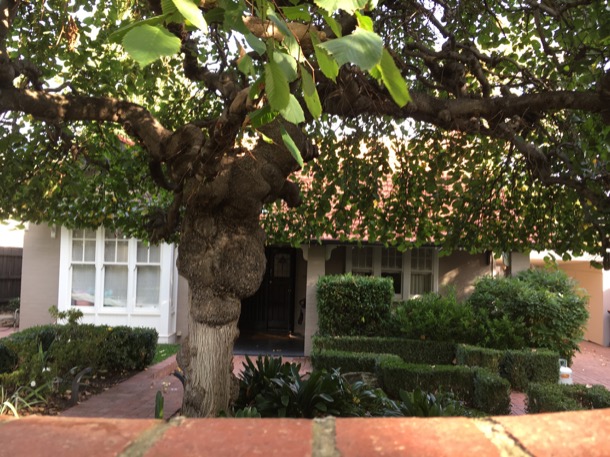 The house looks much the same in 2019, as it did sixty years ago, when Grandma served cake and tea in beautiful china in the front room to her visitors, and mugs of tea with slabs of bread and butter to workmen on the back verandah.


Xavier College
Our uncle and father, first went as borders to Xavier College for their secondary eduction. When our father began there in 1932, Xavier had already been there for fifty years. It was and still is, the premier Catholic Boys private school in Melbourne.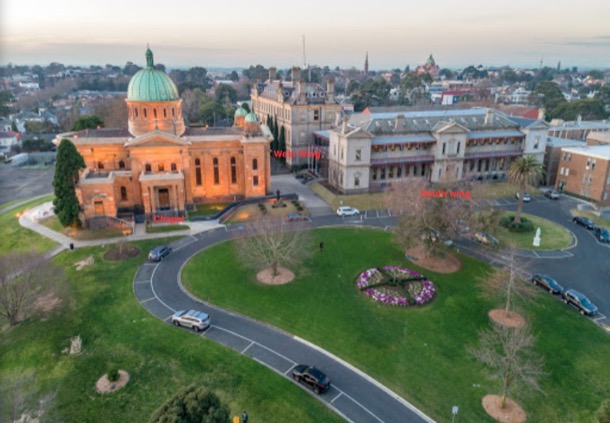 Initially they boarded at the preparatory school, Burke Hall. The buildings of Burke Hall were put together from a trio of mansions on the hill known as Studley Park, some bought by, others bequeathed to, the Jesuits. It first opened, as Xavier College's junior school in 1921.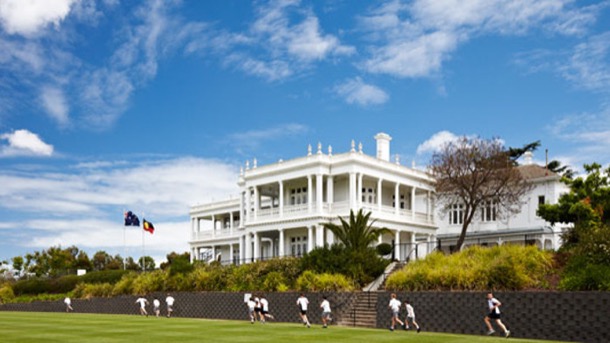 Xavier's senior School is even older. The South Wing is the original building of Xavier College. The foundations date from 1872, the front dates from the opening of the College in 1878, the back half was completed in 1884. It was listed by the National Trust in 1987.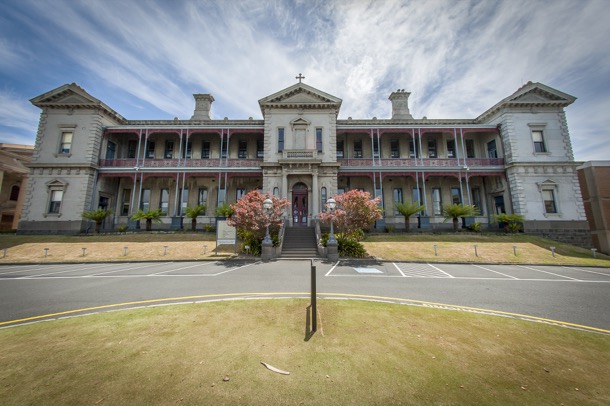 Xavier's main chapel would have been being built when our father arrived. It was finally completed in 1934. The chapel is a fine building with a huge dome. I have sung in a concert under that dome, and Sue has been in the audience for another concert there.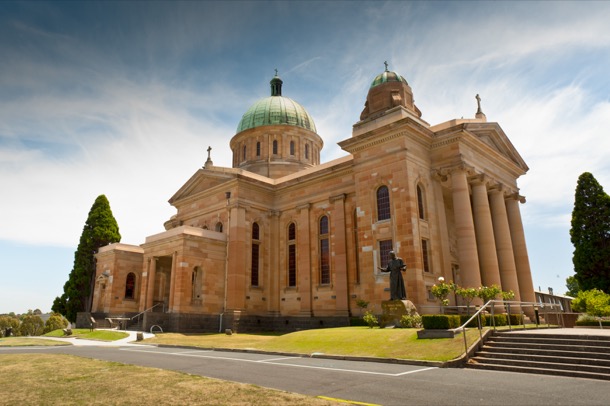 16 09 15 13:38 Filed in:
Jim
Our father, Jim, who died quite young, did not tell us much about his early life. We remember some of his stories, but we also rely on information about Jim's early life, as retold to us by our mother, Alice.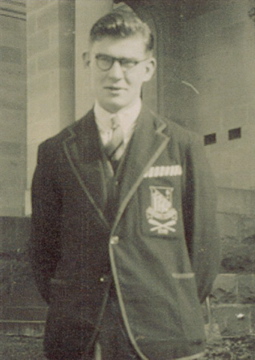 Jim in his Xavier uniform.
Stories of Jim's childhood in Koroit have largely been lost, but he went to the Catholic Primary School there, and spoke of the strict nuns, his teachers, walking up and down between the rows of desks, wielding a ruler.
We can picture him, rushing home after school, calling to the family's protective Airedale dog. Often he was pursued by the non-Catholic kids and would call to them from the safety of the gate, "Proddy dogs, jump like frogs, in and out the water."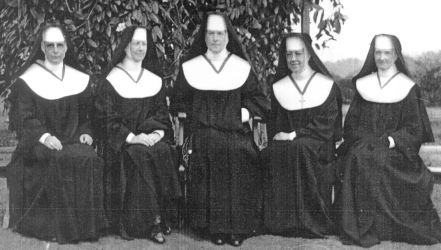 Sisters of the Good Samaritan of the Order of St Benedict.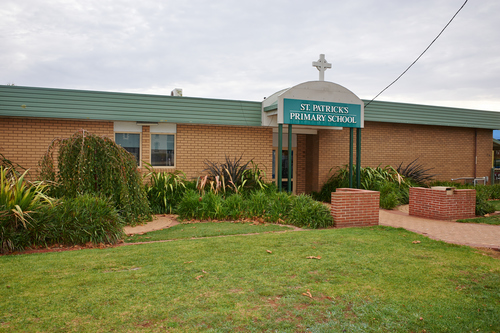 St Patricks Primary School, Koroit, today.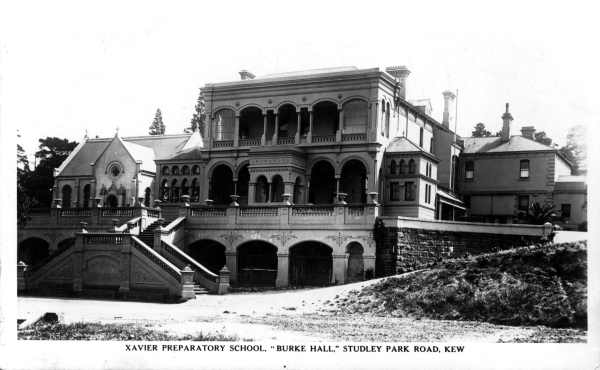 Burke Hall, Xavier Preparatory School, Kew.
In 1932, Jim was sent to boarding school in Kew. Initially he lived at Burke Hall, the junior school of Xavier College.
We have only snippets of information about these years. But it doesn't take much imagination to picture his life.
Jim would have arrived at the big city school, aged just eleven, with the weight of family expectations to follow his father into a career in medicine. Jim had poor eyesight and his interests lay with practical skills.
To make matters worse, Jack, his older, more academically successful brother was already at the school, fulfilling parental expectations.
Alice used to say "Jim should have been sent to a tech school". In his later years, Jim spoke with loathing of the Jesuit priests, known for their strict discipline and preference for academia. He must have hated the long hours of study in cold study halls.
Susan and Margaret remember a time during the annual camping holiday when, disgusted by the gluttony of toast eating competitions, Jim made them eat their toast as he had been taught to at Xavier, placing a lump of butter and a spoon of jam on the plate, and spreading each individual, carefully cut mouthful. His had been a very regulated life.
As an older student, he was particularly successful in the rowing team. His name is on an honour board at Xavier College, as " the stroke" in the prestigious rowing eight. He participated in the "Head of the River" regatta, the oldest schoolboy rowing event in the world dating back to 1868.